Old Mountain Farm James Robert Dam:
Old Mountain Farms James Robert Sire:
Old Mountain Farm Edwin Jones Sire:
Pictures courtesy of Blythmoor farm.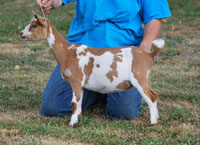 Sire: AGS Promisedland COM WarHawk
Dam: Blythmoor CW Mulberry 1*M
AJ is long and wide and has nice strong feet and legs. This little doe has a nice wide escutcheon and promises to be the good milker that her mother is. Her daughter Ziva appraised well as young stock with a +VVV.
First time showing: GRCH Junior Doe at Linn County Fair (ADGA)
AJ was first in a very large Intermediate Doe class at Oregon State Fair.
She was shown only once in 2009, in Roseburg, and was second in a competitive yearling milker class under judge Elizabeth Henning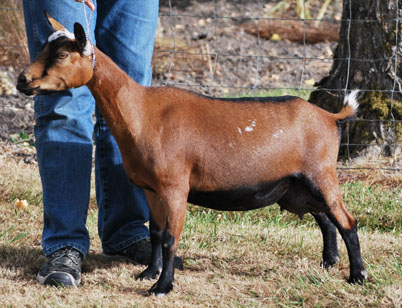 Sugar-Pine MB Myst 1*M

Feb.18, 2006

21"
LA 2009: +VV+ 84 (Very Good)
LA 2010: VVE+ 86
Sire: Twin Creeks PD MegaBuck
Dam: Sugar Pine Fanciful Illusion
2010 ANDDA Bronze JUJU Award Winner
2008/2009/2010 Herrington Award at Oregon State Fair for highest lifetime producer
Myst's LA score reflects what a nice doe this is. I would like better teat placement, but she's a good strong doe and one of my favorites. She milks down so easily and her udder texture is lovely. She milks steadily throughout the year.
She is a very dairy doe, very level on the move -- a strong doe that should continue to improve as the years pass.
2009 Show Season:
Reserve GRCH Sr. doe at SWWDGA 5/09
Myst did very well at the very competitive NWODGA show. In four rings, she was never out of the money -- two seconds with over 10 does in the ring. She was 4th in the large 3 year old class at the Specialty.